Choosing the correct Spinning Can: Vital facts about Sliver Handling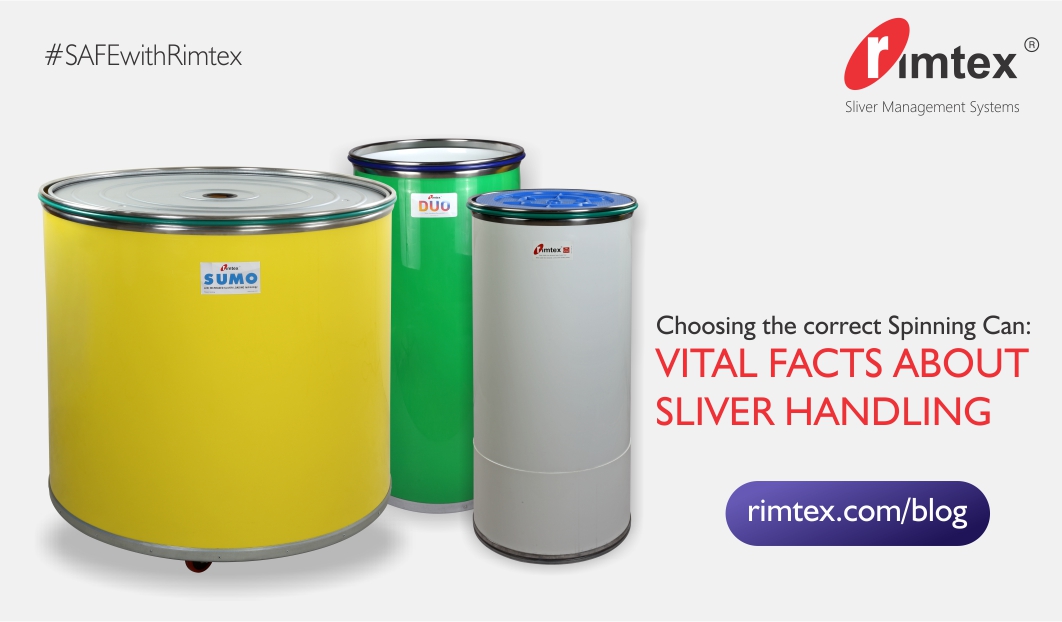 For 30 years, Rimtex Spinning Cans is helping spinners produce better quality yarn by supplying the most advanced sliver handling systems. In this article, we list the most important parameters that explain spinning can significance.
As per the latest published reports, the Textile Industry in India, with 3400 textile mills having installed capacity of over 50 million spindles and 842000 rotors is the second largest in the world. In terms of raw material base, manufacturing strength and employment breadth Textile spinning is of huge significance for the nation's progress. Given this, it is vital to keep the yarn spinning industry efficient and progressive. It is widely accepted that Sliver is the basis of yarn making process; yarn inherits its properties and qualities from sliver.
At Rimtex, we understand the critical nature of sliver handling and for 3 decades are dedicated to providing innovative solutions to spinning mills for sliver handling. Having said that, many spinning mills are unaware of the significance of sliver handling and so often face challenges in choosing the correct Spinning Cans for their mills. Here we share some of the facts about sliver handling – understanding these can help spinning mills figure out what's truly the best spinning can to handle the sliver in their textile mills.
Vital Facts about Role of Spinning Cans
Different types of sliver require different sliver handling Can

There are different types of yarn to be processed short-staple and long-staple like Combed, Carded, Synthetic and Viscose. The properties of each of these is different from each other. For this purpose, they require different types of sliver handling systems. If this is not done it causes a lot of imperfections, increases neps and hairiness in the sliver which in turn is passed on to the Yarn. Rimtex has developed Customised Spinning Cans which provide optimum, and it has a range of Spinning Cans for all types of slivers.

Yarn quality is directly impacted by the Spinning Can

Imperfections caused during sliver handling are irreversible, this causes permanent damage to yarn quality. The studies conducted by Ahmedabad's Authoritative Textile Institute has confirmed that 3cm of imperfections in Sliver will be 3 meters of imperfection in yarn. Rimtex Spinning Cans are designed to provide consistent and imperfection free sliver and so the spinning mill gains better quality yarn with Rimtex Spinning Cans.

Spinning Cans help spinners gain optimised profits

Apart from its role in reducing imperfections and damages a good Sliver Handling system helps enhance yarn quality. Rimtex Spinning Cans aid the spinning mill in improving its efficiency by reducing the doffing cycle. Spinning Cans manufactured by Rimtex Industries produce a perfect sliver doff with maximum sliver parameters retained. Thus enabling spinners to gain optimised production which converts to optimised profits.

Upgradation of Spinning machine and Spinning Can should happen simultaneously

World over Spinning Mills is making heavy investments in new generation spinning machines from leading companies like Trutzschler, LMW, Marzoli, Rieter and others. For the optimum benefit of these investments, the Mill owner has to invest in New Generation Spinning Cans like Rimtex Duo Spinning Can. The compatibility co-efficient of spinning cans manufactured by Rimtex with these machines is very high which yields good results to the spinner. Non-compatible Spinning Cans or Partially Damaged Spinning Cans would result in damages, inconsistency and suboptimal yarn quality which is not the objective of the investment.

Spinning Cans help in the retention of maximum sliver parameters

During the complex yarn making process, the spinners objective is to retain maximum original sliver parameters. Processes like sliver collection and discharging, if are not handled properly can cause fibre migration and end up creating imperfections in the sliver. Spinning Cans designed and manufactured in India by Rimtex provide sensitive sliver handling, they provide stability and consistent performance throughout their working life – always optimising retention of original sliver parameters.
Discover more here: https://rimtex.com/sliver-handling/
Enquire at: enquiry@rimtex.com