Spinning Cans with Combo Spring Mechanism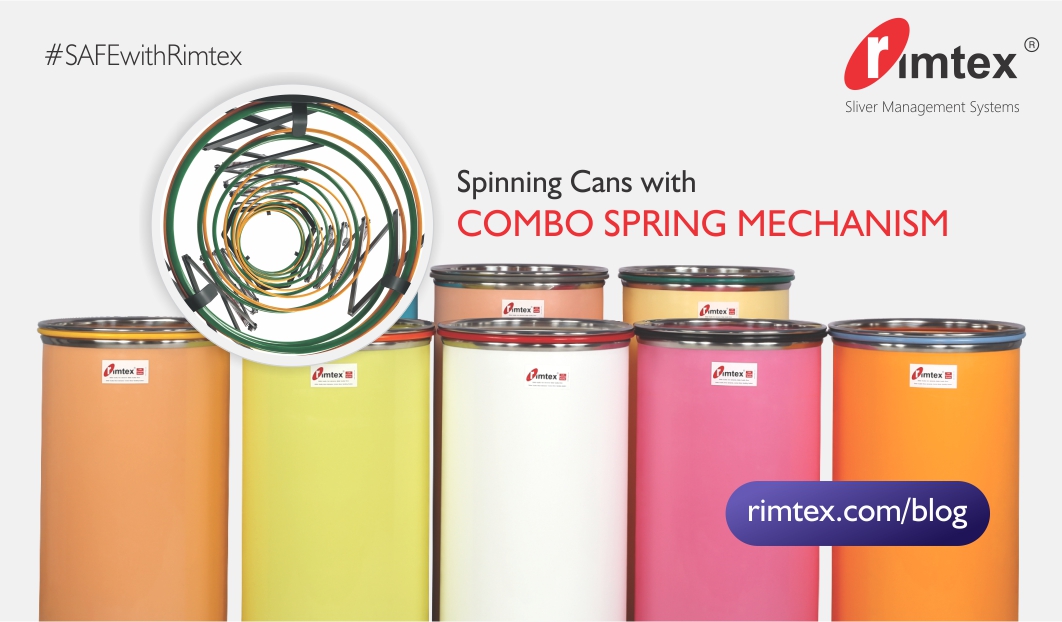 Rimtex Spinning Cans, for 30 years, are at the forefront of yarn manufacturing innovation in India. Read further to know more about the unique Combo Spinning Can Spring Mechanism designed (patent pending) by Rimtex for its UCC range of Spinning Cans. The objective of Rimtex Spinning Cans is to empower spinners and offer them the flexibility to make most of their resources and optimise their returns on investment.
A Spinning Mill has to process different types of sliver to produce a variety of yarn, like Comber Yarn, Carded Yarn or Man-Made Fibres. Production of each type of yarn requires handling of sliver with different properties. Rimtex looked at this challenge and looked to develop a Spring mechanism that works well for all types of Sliver handling. The company successfully launched Utility Combination Can – a spinning can with a combo spring mechanism for multi types of sliver handling.
Spinning Can Spring
The design of combination springs is such a way that one spring will work with the other as required to handle three different spring loads. This spring is available for all popular Spinning Can sizes like 500mm x 1200mm, 600mm x 1200mm and 1000mm x 1200mm. This Coil Type Combo Spring is successfully used at Open-end Vortex and Air Jet projects.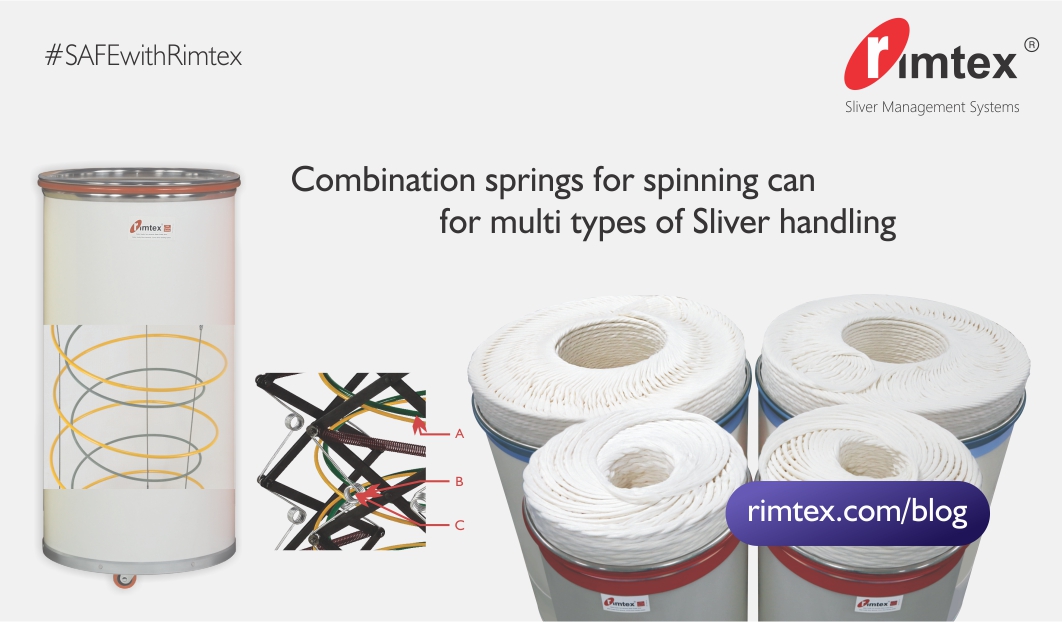 Key Features of Combo Spring Mechanism used in UCC Spinning Cans by Rimtex:
Compatible with combed, carded and synthetic sliver
Special Torsion spring for finer sliver and sensitive handling
Performs for maximum retention of sliver properties
Matt finish and static-free inside as well outside HDPE Body of Spinning Can
Range of beautiful colours: Pastel Pink, Pastel Yellow, Bright Orange, Turquoise Blue and Ivory
Spinning Cans with the innovative combo spring mechanism is being used successfully by spinning units across the world.
We invite you to know more about our innovative Spinning Can solutions.
Write to us at: enquiry@rimtex.com
Discover more here: https://rimtex.com/sliver-handling/ucc-spinning-cans/