Spinning Cans with the most advanced HDPE sheet technology | DUO by Rimtex
Since its launch, Rimtex DUO has helped spinners gain better control over the quality of their yarn and their costs. Continue reading to know more about the benchmark-setting quality of the DUO spinning can.
The textile industry goes through continuous technological changes to suit the needs of a dynamically growing world. The markets are demanding enhanced technology to increase the processing speed of the raw materials and reduce imperfections and wastage. At Rimtex, we believe in having a continuous feedback loop with our vast client network, which gives us the necessary knowledge to orient our innovation capabilities. The product development team of Rimtex identified these common challenges faced by many spinners:
Problems faced by Yarn Spinners:
Sliver migration in the Spinning Can due to static charge accumulation
Reduced lifespan of Sliver Can because of Can's inability to withstand the rigour of new­ generation spinning machines
Partial damages in Spinning Can even before it exhausts its entire working life.
All of these have a substantial negative impact on the final output and profitability of the spinner. Rimtex looked at this issue and worked in two directions: finding a technological solution to the problem at hand and providing spinners with a new-age sliver handling system that matches the demand of the new generation spinning machine. This endeavour led to the development of Rimtex DUO spinning cans. Ever since its launch in 2018, Rimtex DUO spinning can have helped spinners gain better control over the quality of their yarn and their costs. This capability is made possible by the most advanced HDPE sheet technology of DUO Spinning Cans which has multiple innovations embedded in it.
Innovations in DUO Spinning Can by Rimtex
After lots of research, Rimtex has developed remarkable technologies, leading to new quality benchmarks in the Sliver management arena. These Spinning Can innovations (Patent Pending) are:
Interlock Layer Technology
Provides enhanced anti-static property
Anti Scratch Technology
Prevents Sliver migration
Meld Layer Combination Technology
Provides greater durability, strength and sturdiness
Twin Layer Technology
New Generation HDPE sheet which increases life of Spinning can by 25%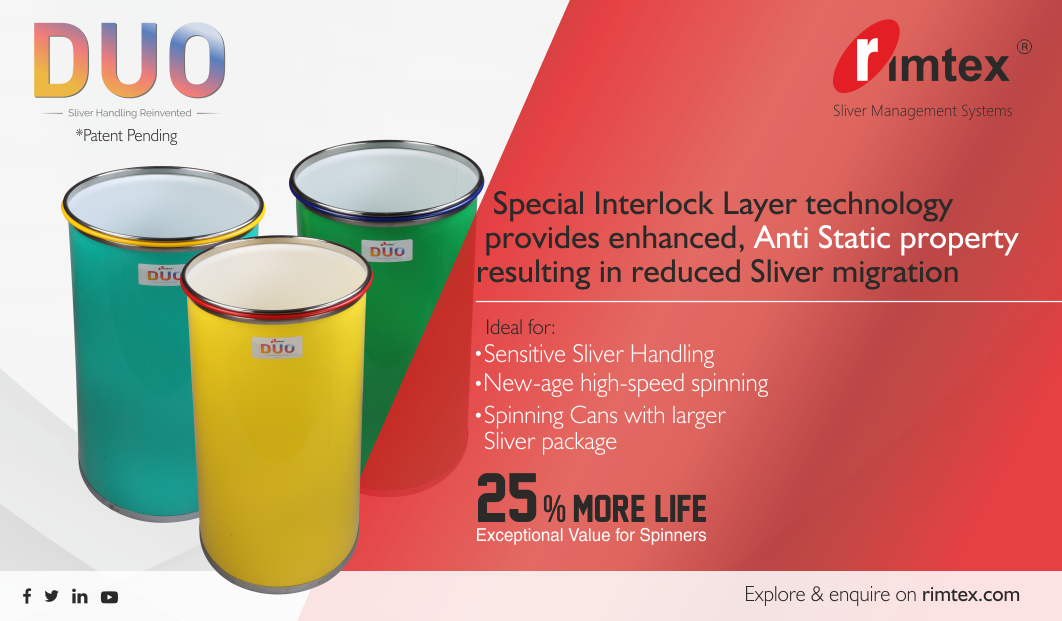 Together these innovations have set up new benchmarks of efficiency in Spinning industry. Leading spinners across the world successfully implement DUO Spinning Can. Spinners are known to gain 25% more Spinning Can life – genuinely exceptional value for spinners. The Rimtex DUO Spinning Can is customisable for Combed, Vortex, Airjet and Jumbo.
Discover more here
Enquire at: enquiry@rimtex.com