#SAFEwithRimtex : Focusing on the fundamentals of change & trust in the Post Covid era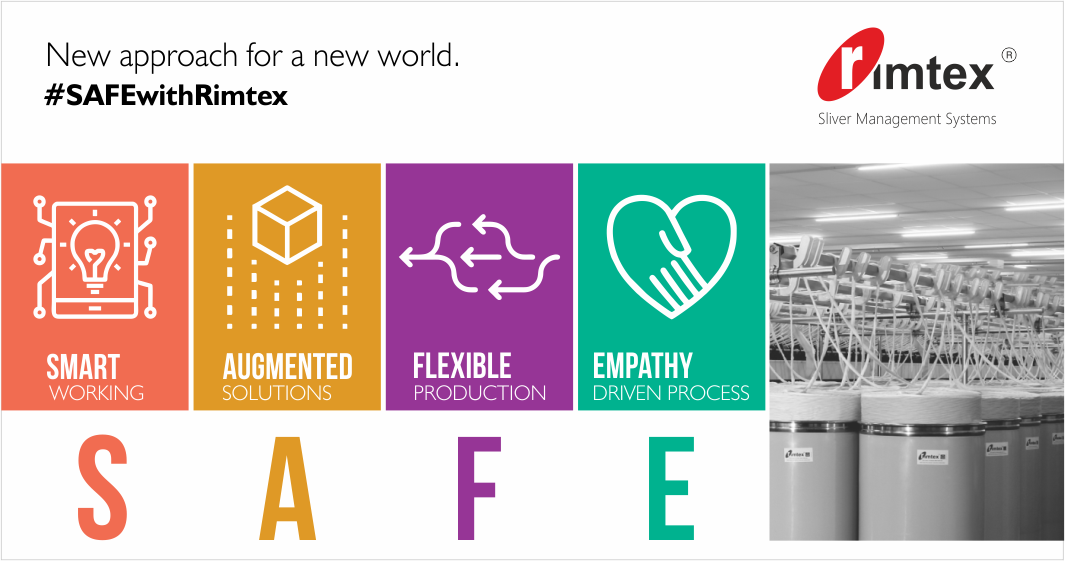 Change is the only constant in life.
Rimtex has built itself on the fundamentals of change and trust. The founding stone of the company is embedded with the passion to create something 'New', continuously. The COVID-19 outbreak has profoundly affected human societies and the global economy, unlike anything ever recorded in the history of humankind. This unprecedented situation has brought the entire humanity at the crossroads of change. We take this moment as an opportunity to step up our role as a responsible Corporate Citizen – which we are doing by taking care of our people, by making economic contributions towards the public efforts and by assuring our unflinching trust and loyalty towards our every stakeholder. We wanted to do more and decided to orient all our thinking towards a more significant benefit of yarn spinning universe. We shifted our crisis management strategies by expanding them from company needs to industry needs. We looked within and realised that resilience is in the DNA of Rimtex. The core of this DNA lies in innovation, demonstrated consistently over the last 28 years. The world today needs newer thinking and a more original approach which can accommodate shifting demand patterns and enable customers to manage uncertainty. At Rimtex, the transformation has begun; all our systems are re-aligned to meet the evolving needs of global markets. The four principles we are focusing on are: Smart working, Augmented Solutions, Flexible Production, Empathy-driven process creation. We call it S.A.F.E.
SMART Working
Accelerate Smart Working by discovering means to integrate software based systems with existing spinning related hardware and empower the spinner with new age capabilities. To look at Smart processes as a business enabler and not just a support system.
Augmented Solutions
To develop new solutions as well as augmenting the utility of current products and solutions with focus to impart efficiency and incremental yield to customers. For, e.g. evolving product features, which allows its usage across multiple processes, thus reducing costs for users. 'Augment' also includes eliminating process as well as product features to minimise redundancy and remain agile.
Flexible Production
To create alternative plans and back up teams to ensure unaffected production, delivery and service, amidst uncertain conditions. To develop manufacturing processes to meet sudden production-scale alterations. This principle increases the adaptability of the organisation.
Empathy-driven process creation
Putting people first – at the centre of all that we do. Create channels of communication for our employees and customers to share their concerns, and do our best in reaching out to every stakeholder of the company. Create sustainable systems which ensure the health and well-being of our employees and associates as the topmost priority. To utilise this thinking in product development and product enhancement exercises.
Upon restarting our operations after the lockdown, first and foremost all of us at Rimtex express gratitude for the remarkable efforts of Doctors, Nurses, health and sanitation workers, police personnel and all other frontline warriors. At Rimtex, the trust of our stakeholders is of paramount importance. Thus, secondly, we pledge to create products and solutions, that enables the sustainance and success of each of our stakeholder. With high responsibility, a strong sense of commitment and a renewed vigour to innovate, we endeavour to spin the fibre for a better and healthier tomorrow.
Stay assured. Stay #SAFEwithRimtex.