Complete Range of Spinning Cans Accessories & Spare Parts are manufactured at Rimtex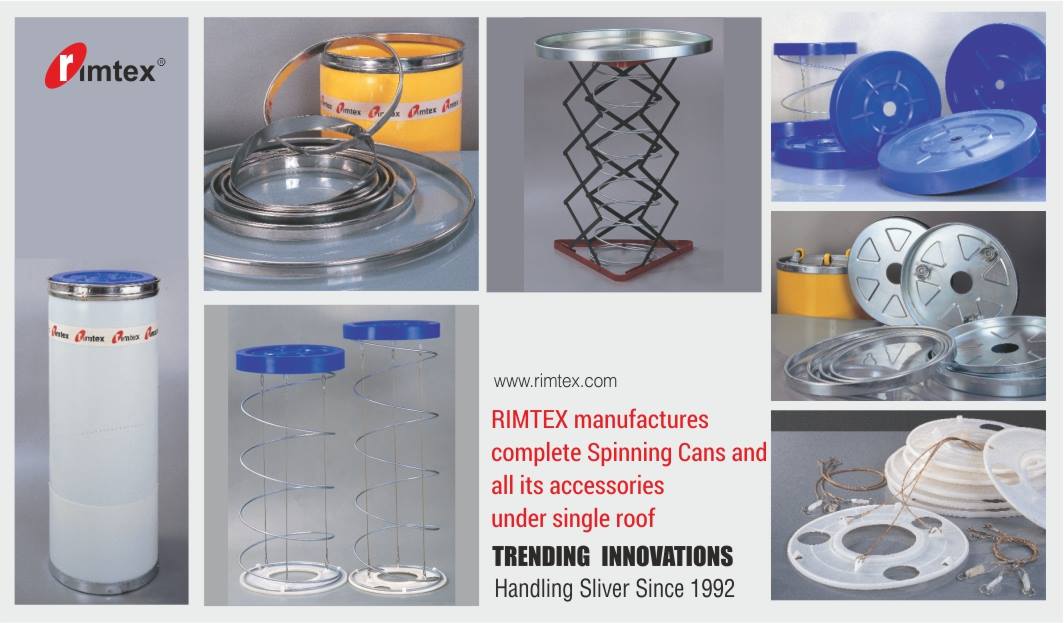 The key function of a Sliver Handling System is to retain the sliver parameters during the course of spinning. During this process Sliver Doff is prone to many imperfections and damages. Hence the role of spinning can is of utmost significance. Rimtex has continuously endeavoured to help spinners generate the best quality Yarn. With its forward looking attitude Rimtex has constantly innovated, to stay a step ahead of the changing market demands and help spinners spin the best quality fibre. In this journey of expanding and having total control over quality of the Spinning Cans; Rimtex transformed itself into a globally leading company that manufactures complete Spinning Cans and all its Accessories under single roof.
Spinning Cans Components
HDPE Sheet
Seamless Cyclindrical body made from virgin quality high density polyethylene (antistatic) sheets. Smooth finish prevents sliver damage by rubbing, and virgin quality HDPE ensures cylindrical integrity.
Top Rims and Top Bands
Stainless steel (also in chrome plated and GI) Top Rims and top Bands with smooth finish, firmly hold the cylinder and prevents it from loosing shape.
Springs
New Anti-rust treated Springs made from special high carbon special spring steel on automatic machines for perfect diameters of coils to nest within themselves, thus providing additional capacity when can is full. Springs specially heat treated and calibrated for required sliver weight and for keeping the top plate at the horizontal position throughout working process.
Pantographs
GI scissors action electro-welded Pantographs and Springs ensure uniform movement and 'zero' tilting of Top Plate.
Top Plates
Moulded ABS Top Plates with Anti-Slippery surface gives perfect base and grip to sliver without rupturing fibers.
GI Bottom Plates & Rims
GI Bottom Plates and Rims made on heavy duty press give greater support to the can.
Spring Bottoms
Moulded Polypropylene spring bottoms holds the spring firmly and does not damage can while inserting or removing. PVC coated Wire Strings with height adjustment hook does not rust and jumble up causing inconvenience.
At Rimtex Industries all the Spinning can components are manufactured and finished in-house with a focus to retain maximum sliver quality, as produced by the machine.
Rimtex Offers Complete Range of Spinning Cans, Springs and Castors.
For more details Visit : here