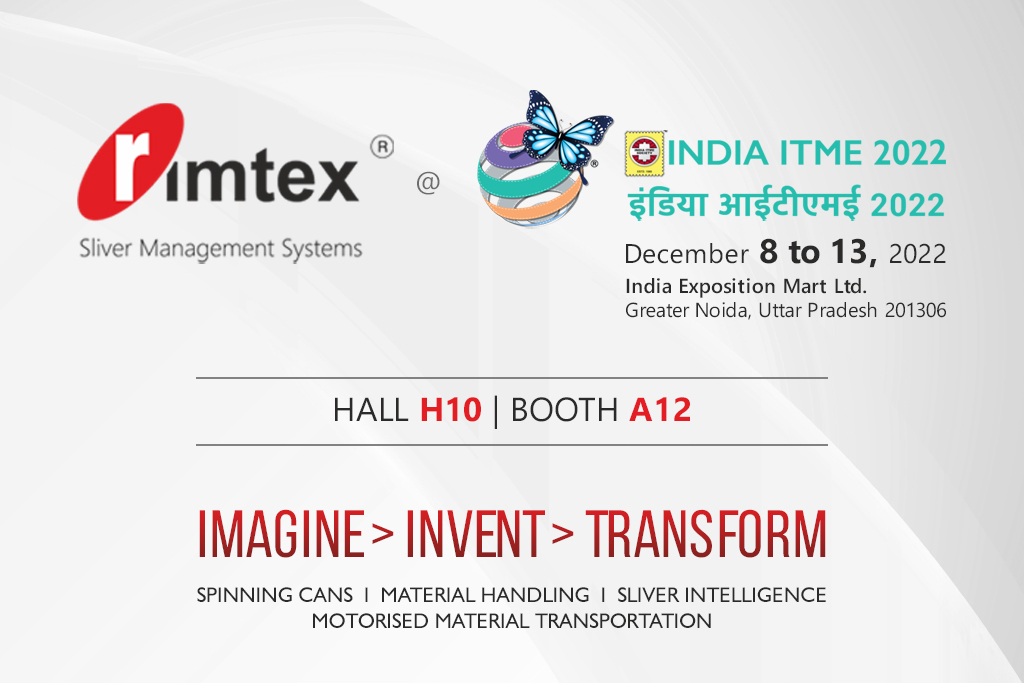 India ITME 2022
Start Date : 08/12/2022
End Date : 13/12/2022
Location : India Exposition Mart Ltd., Greater Noida, Uttar Pradesh 201306
Stand Details
Hall – H10
Booth – A12
Description
India ITME 2022 is a one-stop platform for engineering solutions and technology for the textile industry. The venue for this year's ITME is India Exposition Mart Ltd, Noida. With 15 halls and an area spread over 2,35,000 sq. mtr., makes it the largest in this industry segment. This event is expected to host more than 1800 exhibitors in 22 Chapters and is expected to have over 1,50,000 visitors over the 6 days.
India ITME 2022 offers unmatched business opportunities to exhibitors and gives each one access to the growing demands of the Indian market. India is among the major supplier and consumers of Textile products and India ITME 2022 aims to encourage new market developments and enhance opportunities in 2-tier and rural areas.
Rimtex at India ITME 2022
Rimtex is among the leading supplier of Textile machinery equipment and accessories in the Indian market. Rimtex is the leading spinning can supplier in India and is recognised for its continuous innovation and market-enhancing technological solutions. Rimtex is the only company that holds patents for Spinning Can design – its UCC, ASH, DUO and SUMO Spinning Cans are creating waves across the spinning industry the world, with their path-breaking performance standards.
At India ITME 2022, Rimtex will be showcasing its entire range of products, and will let the visitors understand and experience their innovations. Rimtex other product range includes Material Handling systems like Trolleys and Crates. Recently Rimtex has entered the Industry 4.0 arena with the concept of Sliver Intelligence, known as Wizcan. Also at ITM 2022 in Turkey, it unveiled the Motorised Sliver can Movement vehicles, and entered the intra-facility locomotive market.
All of this and a few surprises are scheduled at the mega Rimtex booth at India ITME 2022.
You can write to us at enquiry@rimtex.com for more details.